On first day of Michigan recreational marijuana sales, customers line up for flower
The line outside the Exclusive Brands dispensary in Ann Arbor, Michigan, stretched more than two blocks - and almost three - on the state's first day of recreational cannabis sales Sunday.
Michigan regulators hand out first recreational marijuana retail licenses
An Ann Arbor business is the first to get a state recreational marijuana license. More licenses are expected to be handed out before retail sales begin
For many Ohio marijuana users, the grass is greener in Michigan
On Dec. 1, the first Michigan license recreational marijuana stores opened their doors to adult users -- including many near the Ohio border. Michigan's program could be a game changer for Ohioans who want cannabis, although the effects on the state's medical program are to be determined.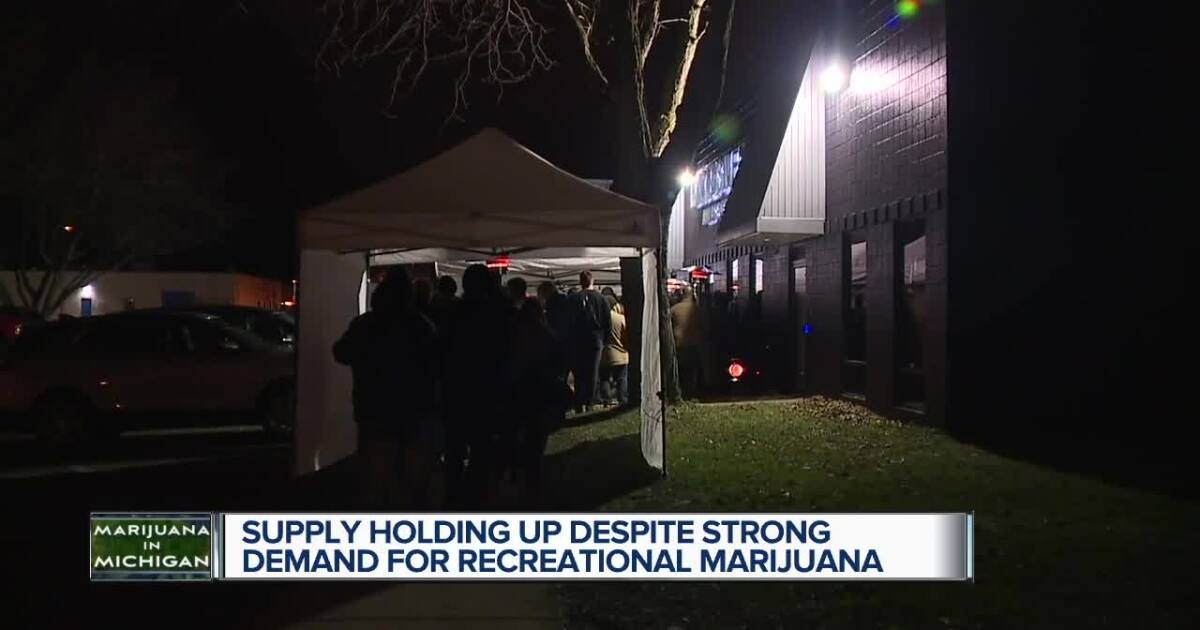 Recreational sale of marijuana off to great start for Exclusive Brands in Ann Arbor
Legal marijuana recreation sales are in full swing here in Michigan, with sales topping more than $200,000 on the first day alone.
Ann Arbor dispensary receives first recreational marijuana license in Michigan
The state issued its first recreational marijuana license to an Ann Arbor dispensary Tuesday.
3 Michigan marijuana shops net $221,000 on first day of recreational sales
The three currently are the only ones licensed to sell recreational marijuana in the state.
Legal recreational weed sales start on a high note
ANN ARBOR, Mich. (WLNS)– It's safe to say a lot of people are excited to get legal recreational weed in stores. Hundreds waited outside of Exclusive in Ann Arbor, one of the first dispe…
Ann Arbor business is first to apply for recreational marijuana license
The window is now open for businesses to apply for a recreational marijuana business license.
Cannabis Market Widens With Michigan
Michigan becomes 10th state to sell recreational marijuana....CRLBF
Ann Arbor dispensary hopes to be Michigan's first recreational marijuana retailer
Over the last year, Exclusive Brands in Ann Arbor has evolved into one of the most sophisticated licensed marijuana businesses in Michigan.
Recreational marijuana sales get green light earlier than expected for Dec. 1
With legal recreational marijuana, it represents the beginning of a new normal in Michigan.
2-week total for Michigan marijuana sales: $3.1 million, $515,051 in tax revenues
The first two weeks of marijuana sales from five Michigan-licensed shops top $3.2 million.
Michigan's first recreational marijuana customers camped outside store overnight
Hours before Michigan's first retail recreational marijuana sale, eager customers waited in festive lines.
Green Sunday: Hundreds line up at few stores open for 1st day of recreational marijuana sales
The three Ann Arbor provisioning centers licensed and open for the first day of legal retail sales of recreational marijuana in Michigan saw lines of customers hundreds deep Sunday.Inventory appeared to be holding up well through the first few hours of sales, which began shortly after 10 a.m. At…
Ann Arbor dispensaries gear up for recreational marijuana sales starting Sunday
Marijuana retailers Greenstone Provisions, Arbors Wellness, Green Peak Innovations, and Exclusive Provisioning Centers in Ann Arbor will open their doors to a whole new customer base come Sunday morning; recreational users.
High time: Michigan begins recreational marijuana sales 13 months after vote
Long-time marijuana activist John Sinclair was the first to purchase recreational marijuana at Arbors Wellness.
Take a look inside Michigan weed stores, where they're running out of marijuana. Is this Illinois' future Jan. 1?
Recreational marijuana sales in Michigan have drawn people from all over the Midwest to Ann Arbor, hinting at what's to come when Illinois dispensaries follow suit on Jan. 1.
'Be open' and other advice for new Michigan recreational marijuana shoppers
At least for now, the lines are huge.
JOIN OUR VIP MAILING LIST
Be the first to know about new items, sales, EXCLUSIVE offers and special events. Plus special discounts ONLY for our VIP patients! So sign up now and save!
ADDRESS
3820 Varsity Drive
Ann Arbor, MI 48108